Luna Lovegood wears a ring in the shape of a beetle. This is the best reference photo I could find.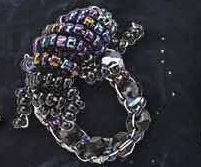 It seems to me made from small irridecent seed beads. I had made a mistake and not ordered seed beads but instead larger round beads.
I had found a tutorial for the ring online,
here
.
I started beading, but with my larger beads it started to turn more into a monster than a beetle. I undid the whole ring and started over, but this time I used half the numbers of beads.
It looks black, but it's irridecent. For the ring part I simply glued it to a ring base.
I'm looking forward to making a ring v. 2, but this time with smaller seed beads instead.